made
a hard-boiled egg (especially as this is Easter season).
But, my darlings, have you ever made OR eaten a soft-boiled egg? I am talking about a beautiful and noble creature with a firm, fully-cooked white encasing a soft and gooey yolk. If you haven't, you are missing the hell out, let me tell you.
(
Soft-Boiled Eggs? Simpler than you"d think.
Collapse
)
I suspect that everyone has eaten a hard-boiled egg in his or her life. I imagine most people have also


I have started a new job at Bibiana in DC and while I'm working my ASS off (11-14 hour days are normal) I love it! Sadly, after a roughly 1hr commute each way, it leaves very little time to do more than just function. Weekends (which I get now pretty regularly - I KNOW!!!) are never long enough and seem to contain mostly laundry and Star Trek. I like one of these a lot more than the other.

Because I have fallen so out of touch with the world (I read Twitter and LJ more or less daily even if I don't always contribute) I realize that anyone who was not physically present at my piratetastic birthday party probably doesn't know that Andy and I are taking 5 days' vacation in Boca Chica in the Dominican Republic.

Starting tomorrow.

YAYYYYYYYYYYYYYY. Bikini time!

It's all-inclusive so I plan on eating, drinking, lounging on the beach and doing my very best beached whale impersonation and demanding that Andy roll me into the water because I will have become too fat from all the relaxing.

I also will be working December 24th and 26th so I won't be going home for Christmas this year. I'm thinking I'll cook a holiday brunch at my place and if anyone else is stuck in the DC area I'd be happy to host movies, games, and food for the afternoon of Christmas day!
Oh. My god. Life.
The Egg Farmer's Council of America would love me because, me? I
love
eggs. They are one of my favorite foods because they offer us so many choices of preparation, texture, simplicity, and, of course, complexity. If you want a simple egg, nothing beats the scrambled or hard-boiled varieties. Looking for a challenge? Grab the freshest eggs you can find and learn to poach a proper egg – trust me, you will never regret the mistakes it will take to reach poached perfection.
It is the poached egg I want to address today. There seems to be a lot of superstition and hullabaloo circulating about what will and won't work when poaching an egg. I can't speak to the chemistry of the process but I can tell you the method that, once I got it down, has never failed me.
(
I want these mother****ing eggs in that mother****ing pot!
Collapse
)
Welcome to I Can't Stop Eating! Did you like it? Did you read it? Do you even like eggs? PROTIP: You need to answer "yes" for us to stay friends.
I've promised myself that I'll write more. It's long overdue. I don't have a proper food blog (yet. yet? yet.) so, for now dear readers, you're going to have to deal.
The egg looks simple. It is a humble creature, white or brown, and unassumingly smooth. It offers to us a blank canvas, beckoning to the cook to unlock its potential. And if there is one word to describe the egg and all it stands for, it is "potential."
I need a positive head count for my birthday shindig at Piratz Tavern on the 24th at 7:30. The hostess asked me to give her an RSVP and I don't want to ask to take up a bunch of their seats and not use them! SO. Here is one more chance to check in and PLEASE take it for my sake.
So far I have:
orochiserge
sensitivinferno
rspeed
silrayan
+1
mark_argent
calliecat
superdtg
abiona
sofakingdustin
+1
??
minakokitty
??
??
darkschneider
??
PLEASE PLEASE PLEASE RSVP!
HAY.
Piratz Tavern
on Saturday October 24th! I'll be rolling in at around 7:30 or so to make sure they've given us the LARGEST POSSIBLE TABLE. I'm making a reservation for about 20 but if you jerks could RSVP, I'd appreciate knowing if I need more or less of their space.
ALSO IF YOU DON'T COME IN SOME KIND OF PIRATE GARB I WILL NOT LOVE YOU.
I AM SO GODDAMN SERIOUS.
If you're into gifts, I love shopping at Target, Williams Sonoma, and Amazon. I keep a
wishlist
over there and it has an ice cream machine or two on it (which EVERYONE WILL BENEFIT FROM) so if you just want to chip in for that, Amazon-style, that would be a-ok by me!
Celebrate my Quarter-Centennial at the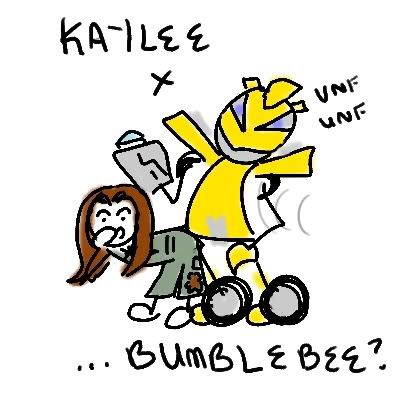 I ain't got time for walls of text and neither do you. Here's how I roll (for now, until I get un-lazy and draw more):
Where The Hell Have You Been?
Yeeeeeeeeeeeeah. Around. I moved into a house in Bethesda, MD with
rspeed
and
silrayan
at the beginning of August and everything has spiraled into madness since. Restaurant Week (which is basically one of the two busiest weeks in the year for me) came and went I got my dumb self injured so I actually sat most of it out. We also went sans internet for pretty much the whole month here, which left me able to keep up with the world but difficult to interact in any way other than Twitter. Also, Dragon*Con (motherfuckers).
A Perfect Fusion of Man and Machine
Shit yes I did buy an iPhone and, thanks for asking, I love it. It isn't
quite
glued to my hand but we are CLOSE. I grew tired of being the only person I know who doesn't get to sit on my butt in front of a computer all day and dick around on the internet when work is slow. Refusing to be left in the dark ages, I got me a smart phone and I have not looked back since. How on earth did we live without these things?
A Feast, Though Perhaps Not So Moveable
I still love food. Goodness knows, that's obvious. Lately I've been getting more interested in where my food comes from and trying, when I can, to keep it natural. This is tough when you're poor and short on free time but it's deeply satisfying when I succeed. A friend and I bought locally grown heirloom tomatoes and, that day, turned them into homemade ketchup. HOW COOL IS THAT? I went blueberry picking earlier in the summer and can't bring myself to eat store-bought berries anymore because they taste like a refrigerated truck. Today I went apple-picking at the same orchard and got me a bucket of Golden Delicious apples that are about to undergo a transformation into a tasty crisp.
I may work in a kitchen all day most days but I still haven't lost the love to make food. I love cooking and eating and growing and picking and, okay, I don't love doing the dishes so much but at least I've found something to make me happy. Even though it doesn't pay me enough to live on month to month. Awesome.
I'm Dating a Hologram
It's true. For 6 months I have been seeing a very convincing simulation of a boyfriend. I think he has a chance to pass the Turing Test! It could happen. For our anniversary he got me flowers and I bought him a phaser. I'm proud of us.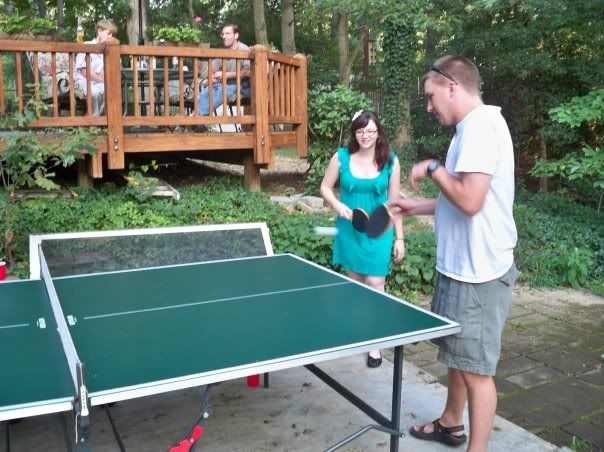 P.S. Raptor Ping Pong is extremely serious business.
brilliantnova
is right - I never post anymore! I am cuh-razy busy with work (raise your hand if you have worked 10.5 hour days of labor!) and tend to spend my free time a) moving as little as possible or b) watching TV on a couch with Andy. I've also been going out after work a lot which I cannot understand because I am up at 6 and EXHAUSTED by the time 8pm usually rolls around.
rspeed
,
silrayan
and I are moving in together! We will be a big fat happy family full of pets and also baked goods. We've found a place in the Bethesda mailing area code in MD but it's more like Cabin John (just off 190/River Rd and the Beltway). I'm really stressed out about the move (because I will be working so many days/hours during the time we're renting a UHAUL and moving our big furniture in) but I'm also thrilled about it. Living with Housemate C is driving me INSANE.
C's Queen Bee attitude has gone a little far and the girl has snapped. Angry notes, silent treatment, rudely worded e-mails, yelling at her boyfriend for talking to me. My goodness. This girl. I have done my best to always be forward with her and apologize when I slacked in my own cleaning and household care duties but her passive aggressive tendencies have pretty much robbed me of sympathy.
No longer amused with making a phallus out of a bowl of produce to bother her (okay, well, yes, I am still amused by it. because it's funny), I have decided simply to alleviate her stress of there being too many dirty dishes (of course ALL of them are mine - um no. I'm hardly home anymore) so tonight I will be packing up as many of my kitchen things as possible and taping them up into boxes so they're ready to go and out of her way. And now there will be fewer items left to booby trap the cabinets with! Everybody wins.
Signs that I am exhausted/busy: naturally drying hair (curly/wavy), sideswept bangs (in desperate need of a trim and no longer blunt and straight), knit dress (pants involve too much work), heating up a frozen dinner (don't judge me, I'm fucking hungry), turned down a date to a burlesque show tonight (too late - show starts at 10pm and I work at 8 Saturday morning. no thanks!), and, finally, REALLY EXCITED about frozen dinner. I think I'm just crazy hungry, though.
Shedding dead weight is SO. NICE.
HAVE FUN AT OTAKON, BITCHES.
rspeed
bought us kabobs and pampered the princess.
Then this morning I went blueberry picking in Maryland and got (this is for you,
marisolita
) a
wicked
sunburn. But Mmmmmmmm. Berries.
And if you don't know how to get to
My Flickr
by now then I am ashamed of you.
A good 24 hours.
We did roughly four things all weekend:
1. Nothing
2. Ate/Cooked
3. Were on A Boat
4. Drank
Drinking commenced as early as about 9:30am, but averaged at around noon. We played board games, charades, studied for the GRE (this
became
a drinking game), and just generally had a good time talking and enjoying the scenery.
The temperature rarely broke 70 degrees and the winds probably averaged 15-18 mph which was a little dangerous, boating-wise. Waters were choppy and the lake was COLD. I considered swimming until Lake Ontatio assaulted my poor behind and I realized how chilly it was. I baked and read and had a great time with Andy & co.
Well over 100+ photos from the weekend over at
My Flickr
July 4th. Oh man, what a great weekend! Andy invited me to a friend's lake house right by Lake Ontario in upstate NY. There were as many as 16 people there, none of whom I knew until that weekend, and it was a great crowd.